An Easy Overview of Immigration Terms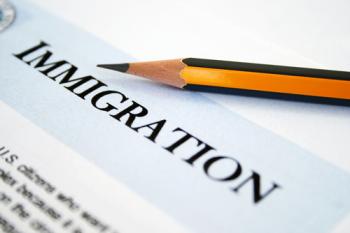 Both the B-1 and B-2 visas are used for non-immigrant travel to the United States. The B-1 travel visa is a temporary business visa that is commonly reserved for non-paid business affairs such as contract negotiation, settlement of an estate, attending a conference or meeting, and the receipt of training not specifically geared towards employment, but also may relate to athletes whose only income is prize money, guest speeches, independent research and negotiation of sales for foreign-made products. The B-2 non-immigrant travel visa is commonly used for visits of a pleasurable nature, including those made for purposes of tourism, social visits, rest and relaxation, visiting family, amateur participation in a competition or other event, and even medical treatment not available outside the U.S.

In both cases, seeing as no contract or source of steady income is involved, generally, there are no requirements for clearance by the Department of Labor or USCIS. However, the applicant may need to prove he or she only intends to stay for a short term, as established by the Immigration and Naturalization Act, and will thus be obligated to demonstrate he or she has a compelling reason to return home, such as a residence or employment abroad, as well as evidence of funds to cover the cost of the trip.

J-1 visa

The J-1 visa, or exchange visitor visa, is used for non-immigrant travel to the United States for cultural or educational exchange, under the idea that such activity allows for foreign residents to better understand America/Americans, and vice-versa. Often, a J-1 visa will govern some activities also covered by the B-1 or B-2 visa, but is distinguished by allowing the traveler to accept some sort of certification or school credit as a result of this exchange. A variety of activities are are covered by the J-1 visa program, and includes but is not limited to au pair work, internships, study at a university, secondary school or other institution, professorship, teaching, research, scholar status, and summer work.

Any program with which the visa holder registers must be accredited by the SEVP (Student and Exchange Visitor Program), and their information transmitted to the Departments of Homeland Security and State through SEVIS (Student and Exchange Visitor Information Services). Some J-1 applicants will also be mandated by the Immigration and Naturalization Act to remain in their country of origin for two years following the return of their trip, especially if their stay in the United States was funded by the federal government or they received graduate level education/training.

H-1B visa

The H-1B non-immigrant visa, also known as a Persons in Specialty Occupation visa, is a subset of the H-1 work visa category. It corresponds to work that requires a "highly specialized" form of knowledge and usually involves the completion of a course of study from a institution of higher learning (bachelor's degree or higher). The content fields under which determination of such knowledge is necessary include engineering, mathematics, religion, law, physical health, architecture, accounting, and the arts. In addition, a select few (100 or less each year) deemed persons of merit may apply for the H-1B visa, and include fashion models, intergovernmental researchers, and international Department of Defense projects. Prior to application for the H-1B work visa, the prospective visa holder will need a labor certification or approval by the U.S. Department of Labor.

K visa

The K visa family is a group of non-immigrant visas designed for the purpose of travel to the United States for the spouse or fiancé(e) of a U.S. citizen. The K-1 fiancé(e) visa is designated for foreign-born travelers who are coming to America for the express purpose of marrying a U.S. citizen on U.S. soil. Following the legal marriage, which must occur with 90 days of arrival, the applicant may not travel outside the country on a K-1 visa and will have to apply for adjustment of status to be a lawful permanent resident.

The K-3 marriage visa is reserved for the foreign-born spouses of American citizens, and the applicant must qualify for at least some of the requirements of being an immigrant, despite its legal classification as a non-immigrant visa. American citizens must file petitions on the behalf of their current or future spouses. In addition, there are also K-2 and K-4 derivative status visas available for holding by children of fiancé(e)s and spouses, respectively.

TN visa

The NAFTA Professional visa, or TN visa, is reserved for Canadian and Mexican workers able to work under conditions of the North American Free Trade Agreement signed in 1994 between the three participating countries. It is a temporary work visa, and as a result, is not open to lawful permanent residents of the United States who emigrated from Canada or Mexico.

TN visa applicants must be given full- or part-time employment by an American employer. Also, they must possess a copy of an employment letter by said employer, and must meet certain minimum education and work experience requirements. Furthermore, they must work in a trade specified by NAFTA and their position must require the hire of a NAFTA professional; visa applicants must evidence as much with copies of certifications germane to their skills and indications of the terms of their pay. Different rules apply for Canadian and Mexican TN visa holders.

N-400

Form N-400, or the Application for Naturalization, is a form issued and processed by U.S. Citizenship and Immigration Services. It is specifically designed for individuals looking to gain American citizenship. In all cases, an applicant must be 18 years or older, and generally, he or she must be a lawful permanent resident for at least five years. However, foreign-born residents who have been married to a U.S. citizen may apply after three years, and for some members of the Armed Forces who have served on active duty and select members of the Ready Reserve, the wait may be further reduced to one year.

N-600

Form N-600, or the Application for Certificate of Citizenship, is a different form altogether from the N-400 Application for Naturalization. Whereas the N-400 confers benefits of citizenship to those who previously lacked citizen status, completion and validation of the N-600 serves as an official notice that the applicant already is a citizen of the United States.

For those people born on American soil, generally, this form will not be a concern. For others who were born abroad to two U.S. citizens or one citizen with at least five years lived in this country (two of those years being after the age of 14), as well as those who have failed to get recognition from an embassy/consulate or on their passports, then the N-600 as proof of citizenship is more relevant.

H Visas

The H visa category broadly encompasses certain types of temporary worker classes. H visas are broken down into three numbered subsections, and beyond that, another letter system. The H-1 visas include the H-1B Persons in Specialty Occupation visa, designed for people with "highly specialized knowledge," fashion models and others, and the H-1C visa, meant for foreign nurses working in understaffed sectors.

The H-2A and H-2B visas apply to seasonal agricultural and non-agricultural workers, respectively. The H-3 visa is prescribed for non-academic and non-medical trainees, and also specifically trainees who work with handicapped youths; it is commonly reserved for a small number of applicants.

Z Visas

The Z visa, depending on what country one is focused on and his or her purpose for residence, can be one of two wildly different things. As it relates to China, the Z visa is a type of work visa often secured by Americans and foreign nationals with legal status in the United States who wish to work in China for a period of three months or less. It is a single entry visa. As it relates to the United States, a Z visa is a theoretical form of documentation for illegal immigrant laborers so that they could have a classification and legal right to work and reside in this country.

After a period of several years and thousands of dollars in fines and back taxes, Z visa holders would then supposedly be able to secure a green card. The Comprehensive Immigration Reform Act of 2007, which proposed the Z visa in this sense, never made it past the bill stage.

C Visa

The C visa is a transit visa authorized for individuals seeking passage from one foreign country to another through the United States. For many alien travelers, the C visa will be a necessity, especially if, during the course of the journey, the plane or boat lands at an official U.S. port of entry. There are even C-2 visas and C-3 visas required for diplomatic transit and foreign governmental official transit, respectively. Regarding the general C visa class, though, visitors from Visa Waiver Program countries will usually not have to secure a transit visa in traversing the United States.

M Visas

The M visa class pertains primarily to the non-immigrant foreign student who attends a vocational school in the United States approved by the Student and Exchange Visitor Program. M visas are customarily valid as long as their holders are enrolled full-time as a student at a certified institution, and for another 30 days after the fact to prepare for a return trip. M-1 visas are reserved for actual foreign students under this classification, and M-2 visas for the child or spousal dependent of the visa holders.
Related Topics