Online Reputation Management and Your Firm: 7 Tips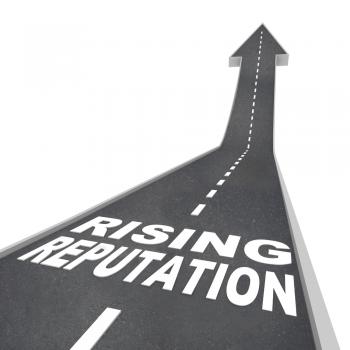 You may not have given much thought to managing your online reputation in years past. Less than a quarter of law firms are currently engaging in active reputation management strategies online, and the numbers are even lower for small firms and solo practitioners. However, with consumers using searches and online reputation rankings more and more frequently, the time is now to get into the reputation management game. Here are 7 tips that will help get you started with managing your online reputation whether you're a large or small law firm:

#1: Start Right Away

You may think that your firm has a fairly good reputation online already, and that because of this, you don't need to do much reputation management, if any. You may think that keeping your clients happy is all that you need to do to ensure the continued success of your online reputation. However, when you coast in this way, you're ignoring the fact that disgruntled former clients—or even, in a worse case, disgruntled competitors or people with personal vendettas—could still badmouth your firm in a way you might not even notice for weeks or months, scaring off potential clients all the while.

Understanding reputation management and beginning to use monitoring tools is something every law firm should do, regardless of whether your online footprint is currently big or small. In fact, small law firms can benefit more from monitoring if something ever goes wrong. With a large firm, a single negative review or angry website posting will probably be lost among many positive reviews. If you're a small firm that doesn't do much online, a single person could ruin what people see about you in Google.

#2: Get Reputation Management Software

Reputation management software can make it significantly easier and faster for you to monitor what people are saying about you online. Some of this software can be free, but this may be more limited in functionality or user interface. Reasonably priced reputation management software is a great investment for your law firm, because it lets you rest easy that you're seeing what people have to say about your firm on social media channels and all over the web.

#3: Pay for a Yelp Premium Account

Controversy has erupted over whether Yelp deliberately hides positive reviews and shows negative ones for businesses that won't pay a fee for a premium account. While Yelp denies the accusation and courts have so far found in the website's favor, the accusation is still common and lawsuits are still ongoing.

You can take your chances, or you can pay the fee, which also gives you the ability to feature particular reviews and a much better shot at clearing out bad ones. You'll also be able to show more about your business on your Yelp page if you pay the cost for an account. With fees of around $300 a month, you have to ask whether you're getting any billable hours—any at all—because of Yelp. If the answer is yes, odds are that being able to filter reviews and feature the ones you like best is worth your money. Give them their pound of flesh so you can move on to more pressing matters without having to worry as much about negative Yelp reviews.

#4: Consider Outsourcing Reputation Management

If you're having a difficult time figuring out a reputation management strategy that works for your firm, especially if you're working for a large law firm, you may want to outsource your reputation management. This can be a good alternative to having to hire another employee to take care of reputation management online, and these companies specialize in ensuring that your online reputation in web searches is clean and ready to be viewed by consumers and other businesses alike.

#5: Find Good Brand Ambassadors

One of the best ways to manage your reputation online is to make sure that you have people saying good things about you. You know who some of your happiest and chattiest clients are. By asking them if they'll leave you favorable reviews in the social media world and on review websites, you can ensure that you have a steady supply of good reviews coming in. That's important, because if many months pass between reviews, people may be more reluctant to contact your firm, assuming that the attorneys or level of service may have changed in the time since the last review was written. In general, consumers seem to convert more easily when at least one review is less than 3 months old.

#6: Be Calm When People Criticize

It's easy to be upset when you hear a negative critique of your law firm for the first time. It's even more upsetting if you feel like you're being criticized for things that are either beyond your control or that are unfair. Even if you think the criticisms leveled at your law firm are completely without merit, don't lose your cool. The worst thing that you can do for your reputation is to attack critics. It never looks good, even if you're really in the right.

When people criticize you, the best thing to do is acknowledge their feelings and keep talking up the positives of your firm. If they act abusively, you should restrict them from posting to your social media, and notify any social media websites about abusive or defamatory posts. Don't waste time arguing. You know what they say: don't wrestle with a pig. You both get dirty, but only the pig likes it.

#7: Move On From Negative Publicity

Everyone's going to have a PR negative happen from time to time. If your public relations nightmares just became reality, take a deep breath. This, too, shall pass, and on the internet, reputations can change faster than ever. Sometimes it's a good idea to hire a reputation management firm in the wake of PR problems, so that you can get your reputation monitoring and management back into good shape before taking the reins back over.
Related Topics