Senators Propose Solution for "Orphaned" Nuclear Waste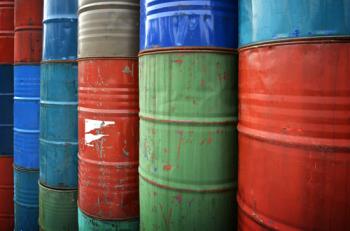 Four United States Senators—two Democrats and two Republicans—proposed a bill this week aimed at solving the country's nuclear storage woes. If the bill becomes law, it would create a nuclear waste policy incorporating both temporary and permanent storage solutions.
After President Obama de-funded the Yucca Mountain Project, which would have provided permanent storage for the nation's nuclear waste in one location in Nevada, federal lawmakers have struggled to reach a compromise regarding where spent nuclear fuel should be stored.
Nevadans largely stood in opposition to the Yucca Mountain facility, in part because they feared that the facility could leave the Las Vegas area vulnerable to radiation exposure if containment were to be breached. Because of concerns from nearby residents in any proposed location for long-term nuclear waste storage, finding a resting spot for tens of thousands of tons of nuclear waste has long been a political hot potato.
According to the terms of the bill introduced by Sens. Dianne Feinstein (D-CA), Lamar Alexander (R-TN), Ron Wyden (D-OR) and Lisa Murkowski (R-AK), nuclear waste would be handled by a new agency, the Nuclear Waste Administration. Feinstein said in a press release that "the inability of the federal government to collect waste stored across the country at functioning power plants, decommissioned reactors and federal facilities is costing taxpayers hundreds of millions of dollars a year."
Today, nuclear waste is not centrally stored, or even stored according to any kind of national plan or strategy. Often, spent nuclear fuel rods, which are extremely dangerous nuclear waste, are left on-site at nuclear plants after decommissioning. This nuclear waste, called "orphan" waste because it is located in facilities with no functional reactor, is difficult to transport because much of the gear for transporting spent fuel rods is decommissioned along with the reactors.
This creates a particular problem in areas that are vulnerable to natural disasters. In addition, the decentralized storage of nuclear waste has led to some waste being stored in containers that may be vulnerable to deliberate attack, including containers visible from major highways.
The senators incorporated public feedback in their bill after receiving over 2,500 comments about a proposed nuclear waste measure. However, the bill may face an uphill battle in the House of Representatives. Legislators there are still attempting to restore funding to the Yucca Mountain Project, in spite of repeated presidential assurances that the project will not be resumed.
The next step for the bill is to be heard in front of the Energy and Natural Resources Committee. The hearing is scheduled for July.
Related Topics